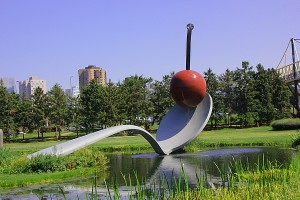 I spent this past Sunday visiting Minneapolis with a close friend, who lives there.  First, let me say that having seen Liv Ullmann and Max von Sydow in "The Emmigrants" (1971) and "The New Land" (1972), there is something very intriguing and appealing about Minnesota in general and Minneapolis, in particular. Second, this has got to be a favorite city for photography.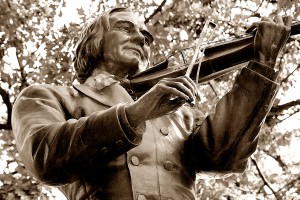 So I thought that I would post a couple of pictures that I took – not great works, even possibly failures – but you get the point.  The first is of the Spoonbridge and Cherry, 1985-1988 a marvelous aluminum, steel, and paint sculpture by Claes Oldenburg and Coosje van Bruggen in the Minneapolis Sculpture Garden.  This sculpture is the iconic Minneapolis snapshot – so obligatory for all tourists.  The second is the memorial bronze statue of Ole Bull (1810-1880), the nineteenth century Norwegian violinist, in Loring Park.  This sculpture was a creation in 1896 of the Norwegian American sculptor Jacob H. Fjelde (1855 – 1896).  I have been for a number of years doing a photoessay on American Sculptors of this period, some of which appear in my galleries.  So this will be an addition to that collection.
My day in Minneapolis was followed by a glorious sunset trip through cornfields to Rochester, MNto do some experiments at the Mayo Clinic.  For art lovers the Mayo is a hidden gem.  There is an extensive collection of art donated by benefactors and they even offer guided tours.